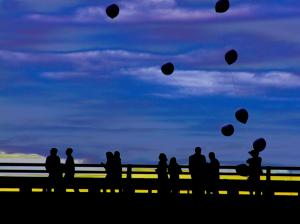 The 2011 Billboard Art Contest will feature 10 artists' work on 10 billboards for one year of advertising. These billboards will rotate among 1,300 regional sites and will be viewed by thousands of patrons! Winners will be featured on the Billboard Art web page with a link to their individual websites. Winners will also be celebrated at a Kalamazoo Institute of Arts reception.

YOU to determine the final 10! Public voting begins March 28, and will close Monday, April 15. Winners will be announced that week. Congratulations to our finalists!

The 2011 Billboard Art Contest is presented by Adams Outdoor Advertising and the Kalamazoo Institute of Arts.


Yay! I have been selected as a finalist. I need your help in getting me through the finals. I am listed as artist #20 and could use as many votes as possible, so please take a look and vote for your favorites. Following is a link to the KIA billboard contest site. Happy...